NYU Coaching and
Technology Summit
Division of Programs in Business
Welcome to the inaugural NYU Coaching and Technology Summit to be hosted at Convene in the heart of Manhattan on Friday, June 16, 2023.

Digital technology is fundamentally changing the coaching landscape. This exclusive gathering is an opportunity for leaders in HR, business, and public sectors to engage with the innovators, entrepreneurs, and thought leaders at the forefront of this transformational movement. The purpose of this inaugural event is to explore:
How the practice of coaching continues to evolve in the digital age  
Why greater access to coaching matters   

In what ways technology and data have enhanced the impact of coaching services in organizations  
New thinking on data access, ownership, privacy, and other ethical considerations
How technology is changing the ways organizations approach well-being in organizations    
Why we must be deliberate about integrating IDBEA into coaching before it's too late  
DATE
Friday, June 16, 2023
TIME
9:00 AM - 5:00 PM

LOCATION
Convene at 117 West 46th Street, New York, NY

AUDIENCE
Public
CONTACT
HCM Conference Team
HCM.CONFERENCE@NYU.EDU

2022 Coaching Summit Highlights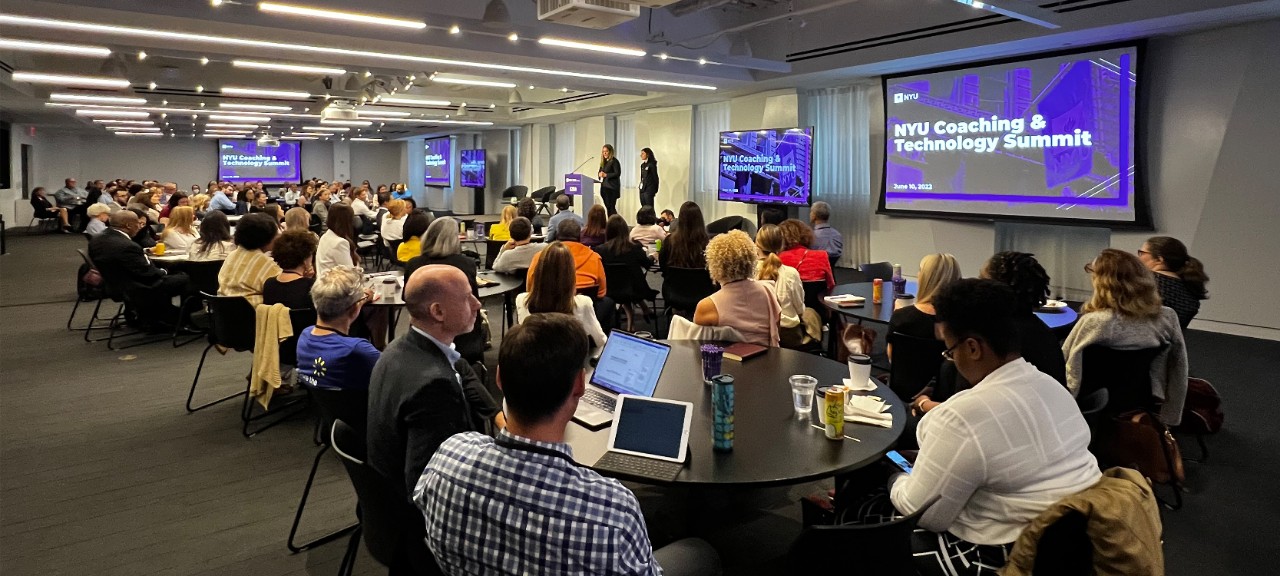 The NYU Coaching and Technology Summit will be held at Convene at 117 West 46th Street, New York, NY.  Discounted room rates are available at the New York Marriott Marquis, located at 1535 Broadway at 45th Street, New York, NY. Reserve your New York Marriott Marquis accommodation online. Standard room rates start at US$ 399.00 from June 15-17, 2023. These rates are available until May 1, 2023, or until the room block has been fully reserved by attendees. At that time, the New York Marriott Marquis will accept reservations on a rate- and space-available basis only. Attendees and speakers are responsible for their own lodging, travel arrangements, and expenses.
Other hotels available in NYC at a discount. Please visit the website for more information.   
COVID-19 Risk Exposure Disclaimer
All attendees who register and attend the NYU Coaching and Technology Summit voluntarily understand, acknowledge, and assume the potential risks related to possible exposure to the COVID-19 virus. All guests agree to abide by the relevant health and safety guidelines issued by New York University and the venue.