Leadership in a Cyber Dependent World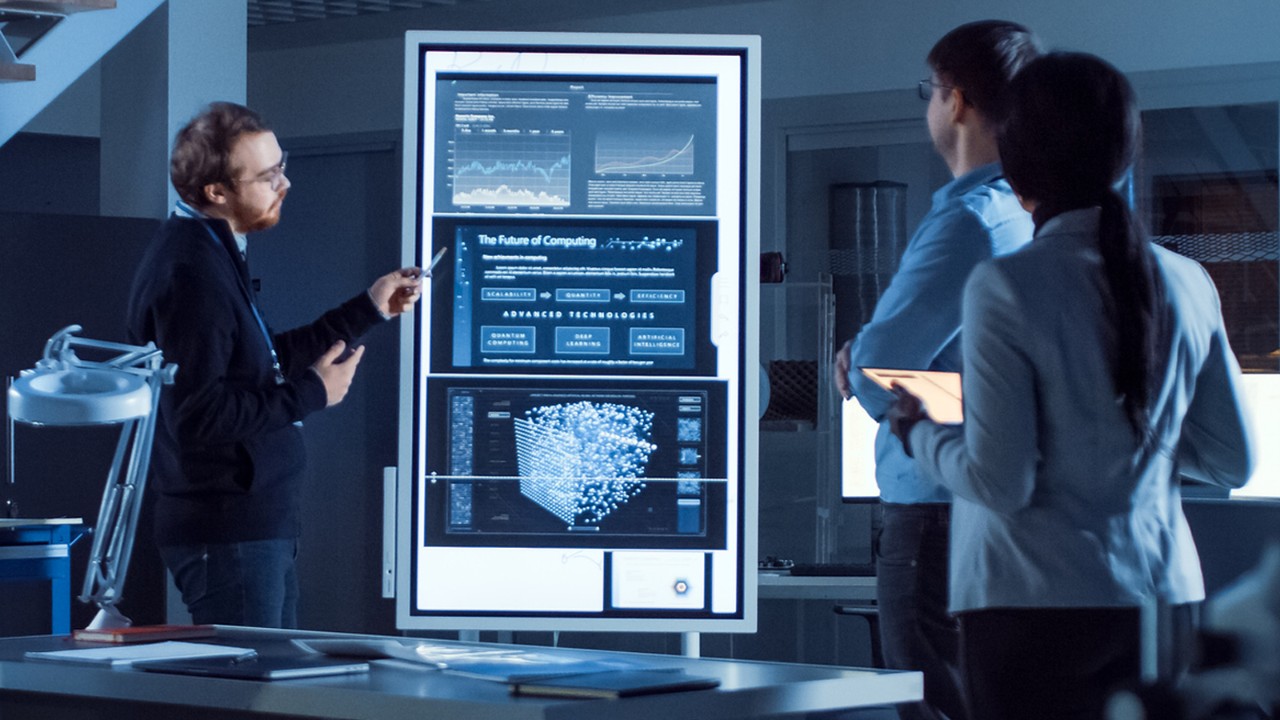 Registration has closed. To inquire about future versions of this course, please contact Michelle D'Amico at michelle.damico@nyu.edu.
Saturday, October 1, 10:00am - 4:00pm (In-Person with Working Lunch)
Tuesday, October 4, 6:30pm - 8:00pm (Live Virtual with Guest Speaker)
Tuesday, October 11, 6:30pm - 8:00pm (Live Virtual with Guest Speaker)
Saturday, October 15, 10:00am - 4:00pm (In-Person with Working Lunch)
Tuesday, October 18, 6:30pm - 8:00pm (Live Virtual with Guest Speaker)
Saturday, October 22, 10:00am - 4:00pm (In-Person with Working Lunch)
Saturday, October 29, 10:00am - 4:00pm (In-Person with Working Lunch)
*20% alumni discount available for those who have received a degree from NYU. Use the code ALUM-20 when registering to receive this discount. Please note that your alumni status will be verified.
*20% discount available for U.S. military veterans and U.S. government employees. Use the code USA-20 when registering with your government email address to receive this discount.
*10% discount available for organizations registering multiple employees. Contact us at sps.execed@nyu.edu prior to registering your employees to receive this discount.
Learn more about this program through our Fireside Chat, recorded on August 23, 2022.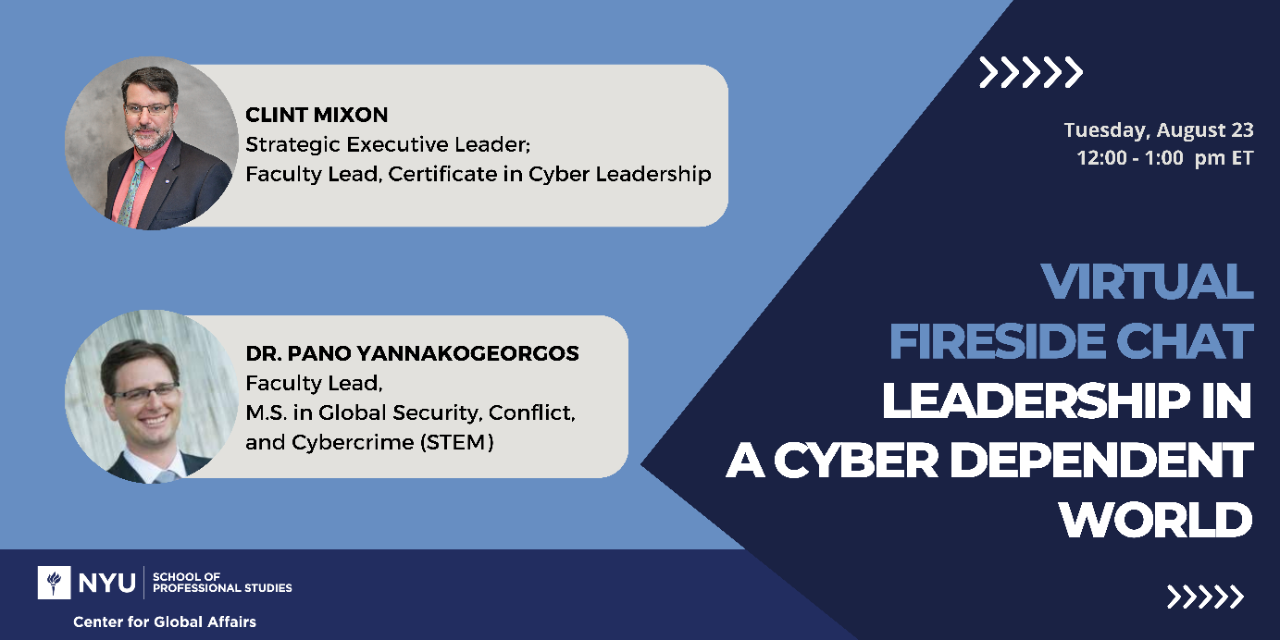 Program Description

Effective leadership is an overlooked yet essential component of building and maintaining a cybersecurity posture. Today's business operations depend on cyber more than ever and solid leadership has always been essential to profitable business operations. Therefore it is more imperative than ever for leaders to understand their organization's technological dependencies and be able to lead across technical and non-technical communities. Effective 21st century leaders are required to understand how data breaches, hacking, ransomware, and evolving digital privacy laws impact day-to-day operations and revenue to enable the development and implementation of cross-cutting strategies.
Cyber security strategies need to be collaboratively developed and communicated across functional areas within organizations. Successful leaders in today's connected world are able to coordinate, communicate and lead across technical and non-technical teams to raise awareness, train, and educate all employees about cyber vulnerabilities, threats, and risk mitigation to ensure that business operations continue despite the onslaught of malicious activity from cyber actors.  

In a highly competitive market for cybersecurity and technical talent, it is critical for organizations to ensure that they are recruiting and retaining the best candidates who are then guided by proactive and effective leadership that can align their teams to organizational priorities. Ineffective leadership can create dysfunction within a team and result in the next headline-making breach or business disruption permanently damaging an organization's reputation and negatively impacting revenue.

This program is designed to help organizations cultivate leaders that can effectively lead technical and non-technical teams, and foster cross-vertical relationships among technical and non-technical leaders. Participants will hone and develop their leadership "soft skills," and re-examine the fundamentals of leadership practices and reorient them to application in the digital sphere. Participants will explore the digital dependencies of their organizations and become empowered to navigate emerging risks associated with their technologically empowered working environments, associates, and consumers.
Those who successfully complete this program will earn the Certificate in Cyber Leadership.
Course Topics
Cyber Complexity and Organizational Dependencies (IT/OT/IOT/PIT)
Security vs. Compliance
Basic Leadership Principles
Standards, Regulations and Risk Management Frameworks (CIS, RMF, CMM)
Leading Change
Business Continuity/Mission Assurance
Crisis Leadership, Plan/Brief/Execute/Debrief/Wrap-up
Program Schedule
This 4-week program features live interactive faculty-led sessions coupled with asynchronous modules in order to provide attendees with robust content delivered in a flexible format. Content has been developed with a practitioner mindset for practical application in a real-world context.
Program Outcomes
Upon completion of the program, participants will have a better understanding of:
Leading a Millennial or Gen Z cyber workforce
The difference between cyber security and compliance
Leading change towards a cyber-security empowering mindset
How to conduct a business operations oriented cyber risk assessment
Leadership fundamentals as they apply to small teams and large organizations
An understanding of cyber norms and best practices
Strategies for cyber risk management
Business continuity and crisis management
Who will benefit most from this program?
Those who will benefit most from this program will have some professional experience managing small teams, and will be interested in gaining the cyber knowledge and leadership skills to advance in their careers. These individuals include:
Technical directors, managers, team leads, and other cyber professionals early in their leadership career or those who desire to progress from small-team leadership to an executive role
Non-technical managers who interface with technical teams across an organization who are early in their leadership career or those who desire to progress from small-team leadership to an executive role
Team leaders in sectors as diverse as financial services, government, e-commerce, education, public policy, utilities, energy, etc.
Program Faculty
Clint Mixon is a strategic executive leader and adviser on cyber strategy, policy, risk, operations, planning, and leadership, and he teaches at the NYU SPS Center for Global Affairs, the US Air Force E-School, and the Naval Postgraduate School. He has over 20 years of leadership experience, ranging from small teams to cross-functional teams of 450+, while managing over $4B in assets and annual budgets over $400M. Mixon has five years of experience working with US Cyber Command and Cyber National Mission Force teams. He also has 21 years of instructional experience spanning technical, undergraduate, and graduate programs. He is a trusted adviser to US DoD & International MoD leaders on cybersecurity and modification of adversary cyber activities. Mixon served at NY City Cyber Command in numerous roles culminating as Acting Chief of Strategy where he oversaw a team of cyber professionals working on strategy, policy, risk management, awareness training and continuity of operations. Mixon also oversaw a federal grant focused on the creation and development of a city-wide cyber workforce program. Mixon currently serves as the Information Security Lead for a non-profit private university that performs cutting edge research where he secures a complex hybrid network structure for over 12,000 users. Mixon is a 26-year US Air Force combat veteran with seven combat deployments during which he served as a commander of combat forces in three different multinational coalition operations.
Program Faculty
Quiessence Phillips is a transformational leader whose strategies and execution have helped build impactful and innovative teams in the cybersecurity industry. With 14 years of experience spanning the private and public sectors, she brings a wealth of knowledge and experience to her work. She also brings her inspirational and unique teaching style to a large body of students through her role as an adjunct professor at NYU Tandon School of Engineering and co-founder of the non-profit EdTech, JOURNi.
Quiessence's leadership, in her role as Deputy CISO for the City of New York, yielded the first of its kind centralized Threat Management program for a municipality. She is now making Security AWSome @ the largest cloud provider - Amazon Web Services (AWS).
Quiessence has been recognized as "Best of New York" by City Tech Foundation, published in "Women Know Cyber: 100 Fascinating Females Fighting Cybercrime", "Tribe of Hackers: Blue Team Edition", "97 Things Every Information Security Professional Should Know", and awarded Security Team of the Year for public sector by FireEye.
Her personal motto is "Polished Exterior, Techie Interior". 
Program Faculty
Geoff Brown joined Recorded Future in January 2022 to accelerate the company's impact for the missions of global governments. Geoff was CISO for the City of New York and Head of NYC Cyber Command between 2016 and December 2021, and has prior experience in financial services and the U.S. Federal Government, including with the 9/11 Commission.