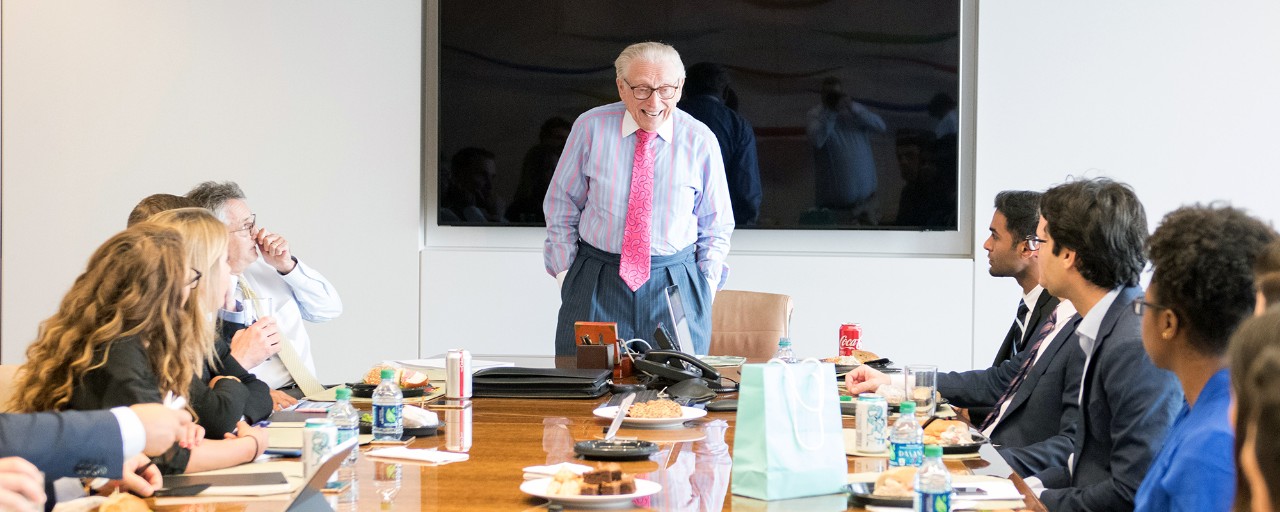 The Hirsh Fellows Program
An Exceptional Educational Experience for the Future Leaders of Real Estate

The program is supported by an endowment gift by NYU alumni Liz and David Z. Hirsh '90. Hirsh is an active member of both the NYU SPS Advisory Board and the Schack Institute of Real Estate Advisory Board. He believes strongly in giving back to the industry that made him a success by providing opportunities to educate the next generation of leaders and innovators in real estate.

A Highly Specialized One-Year Academic Co-curricular Cohort Experience
If you are passionate about real estate and seek to prepare for a management or executive position in an industry that provides limitless opportunities, the Hirsh Fellows program may be for you. As a member of this select cohort, you'll benefit deeply from a carefully curated program of study that immerses you in the world of commercial real estate— here in NYC and around the globe. In and outside of the classroom, you will be challenged in ways that build your knowledge and skills, and set you apart.
Students selected for the Hirsh Fellows program are bright, highly motivated, curious, and creative. They are the future leaders and innovators of the real estate industry, yet they come from a wide range of academic and professional backgrounds. They enjoy collaborating with others and learning from new experiences. If this sounds like you, we urge you to apply for this truly transformational educational experience!
You must apply and be accepted to the MS in Real Estate in order to apply to the Hirsh Fellows program.
Hirsh Fellows enjoy an amazing cadre of benefits including:
One-on-one mentorships with advisory board members, faculty members, and alumni
Global field intensives • Guest lectures • Underwriting workshops • Case studies with industry professionals
Free admittance to all Schack Institute conferences • Tours of major real estate properties in NYC and abroad
Learn From & Be Guided By Renowned Experts
Hirsh Fellows learn from Schack Institute of Real Estate faculty members who teach in the MS in Real Estate program. Their expertise affords those who are interested in the high stakes world of real estate finance and investment, with a comprehensive background in the field and a level of knowledge that will serve them throughout their career. Guest lecturers who are leaders and innovators at some of the top real estate and finance firms in the world, supplement classroom learning by sharing their wealth of knowledge and insights.
Gain Invaluable Experience Through Global Field Intensives
Each January, the Hirsh Fellows complete a Global Field Intensive that is designed to immerse them in the commercial real estate markets of a major city—from London to Tokyo and beyond. These trips provide deep insights into the ways in which business and financial transactions are conducted on a global scale. Site visits to major real estate firms and top financial organizations provide an insider's view into the continuously evolving world of global real estate and the ways in which markets are related regardless of their locale.
Acquire Connections for Success Through Networking Opportunities and Mentorship
Along with students from across the breadth of academic programs offered by the Schack Institute, Hirsh Fellows have the opportunity to attend some of the most prestigious real estate events in the world, which are hosted by Schack and real estate industry organizations.
In addition, each Hirsh Fellow benefits from a one-on-
one pairing with a Schack advisory board mentor who
guides them through this year-long learning experience.
Internship and Employment Opportunities
Hirsh Fellows are encouraged to pursue internships while attending the program. Internships provide the chance to gain experience in real time, and to continue to build a critical professional network that will open doors to professional pathways. Fellows are often hired by the companies for which they intern or find employment on their own at some of the most desirable and respected real estate and financial firms in the world. Below is a sample of the companies and organizations that have hosted Hirsh Fellows as interns and where Hirsh Fellows are employed after completing their degree.