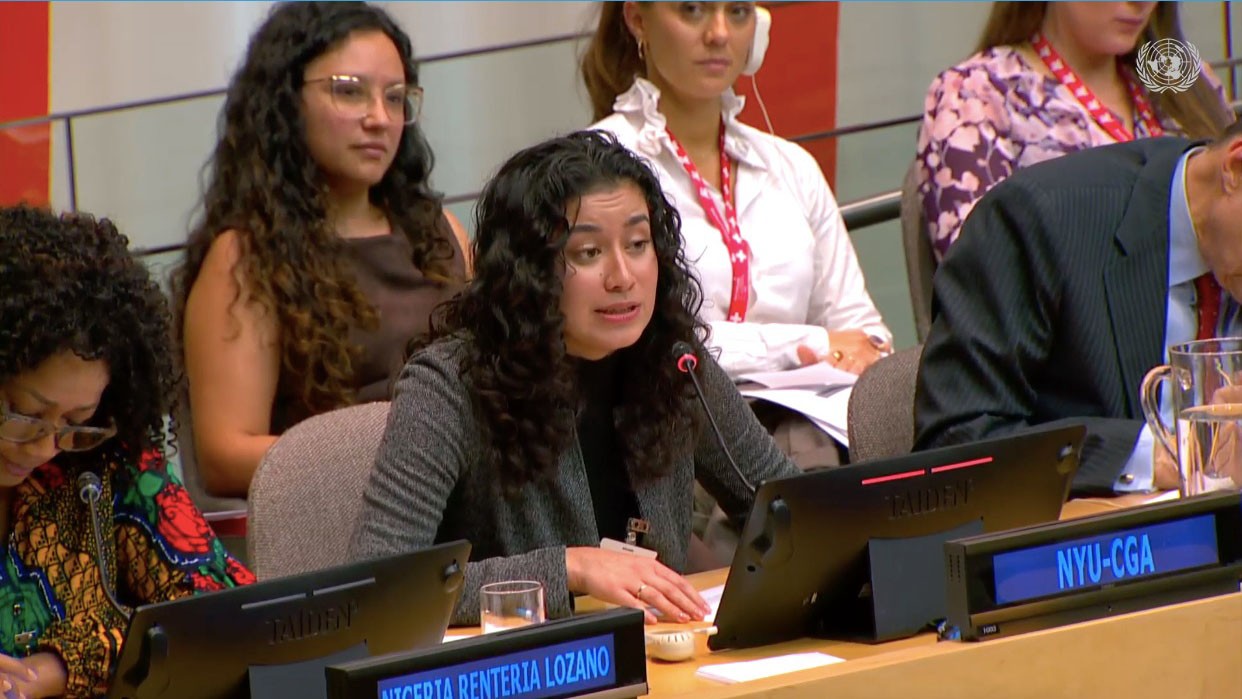 Event Spotlight: CGA Consulting Practicum research is showcased at the event "Women's Political Participation and the National Action Plan on Women, Peace and Security in Colombia" at the UN's ECOSOC chamber
By Jocelyne Enriquez, Yuiko Yoshikawa, Ava Strasser
On 11 October 2023, the Permanent Missions of Colombia and Switzerland to the UN, the Global Network of Women Peacebuilders (GNWP), and the New York University Center for Global Affairs (NYU-CGA) organized the event "Women's Political Participation and the National Action Plan on Women, Peace and Security in Colombia" at the United Nations' ECOSOC chamber. 
The event focused on women's participation in the peace process with the FARC-EP, the ongoing peace talks with the ELN, and the high level participatory process of developing a National Action Plan for the implementation of Resolution 1325. Distinguished guests and speakers included Álvaro Leyva Durán, Colombian Minister of Foreign Affairs; Adrian Hauri, Deputy Permanent Representative of Switzerland to the UN; Carlos Ruiz Massieu, Special Representative of the Secretary-General and Head of UN Verification Mission in Colombia; Nigeria Rentería, lawyer and defender of indigenous peoples and ethnic minorities, and one of two women on the government's negotiating team with the FARC-EP; Genith Quitiaquez Cuaspud, Coordinación Nacional de Mujeres Indígenas de Colombia (CONAMIC); and Sara Hendriks, UN Women Deputy Executive Director for Policy, Programme, Civil Society, and Intergovernmental Support. The event was moderated by Mavic Cabrera Balleza, Founder and Chief Executive Officer of GNWP.
During the event, key research report findings and recommendations on the participation of women in politics in Colombia were shared by CGA Clinical Professor, Dr Anne Marie Goetz and CGA alumna Alani Frace. The report titled, 'Women's Meaningful Participation in Post-Conflict: Mechanisms and Challenges in Colombia, Nepal and South Sudan" was part of a study conducted by Professor Goetz' Spring Semester 2023 Consulting Practicum in collaboration with GNWP, where students: Jocelyne Enriquez, Ali Foote, Alani Frace, Pía Madanes Quintanilla, Siaira Milroy, Ava Strasser and Yuiko Yoshikawa analyzed women's descriptive representation and civil society activism in countries with comprehensive peace agreements.
Dr. Anne Marie Goetz and alumna Alani Frace emphasized during their intervention that persistent constraints on women's political participation in Colombia include patriarchal structures within political parties and society, inadequate financial support and media coverage for women candidates, violence against women in politics, and national and local disparities in regards to funding and quota law enforcement. These findings and conclusions were drawn from conducting interviews with key informants from Colombia and performing secondary research. Part of the report is available now at the GNWP website, and the full report will be available soon.  
Representatives from Brazil, Ecuador, Chile, and Andorra congratulated Colombia on the development of the National Action Plan and their continuous efforts to include women in their peace talks and processes. Many of the speakers from the floor expressed appreciation for the findings of the CGA students' study, specifically with regard to the ways political parties act as gatekeepers to women's progress into top political leadership, and with regard to rural/urban disparities in implementing quota and other gender equality provisions. 

Key takeaways from the event included:

- Colombian women in civil society have been the drivers of inclusive peace in the country, ensuring that the 2016 peace agreement had 120+ provisions on gender, making it a the most robust peace accord in the world from a gender equality perspective;
- The development of the first Colombia National Action Plan on Security Council resolution 1325 has been a participatory process, following consultations with over 1,500 women across the country;
- Efforts must be made by United Nations Security Council Member States to champion the localization of the Women, Peace and Security agenda and ensure that local civil society organizations are funded to implement gender equality provisions in the peace agreement.