Health & Safety
We want you to be safe and healthy during your time at NYU. The University offers a broad array of services to ensure that you feel secure, well, and comfortable during your time here. It is important for students and parents to familiarize themselves with these services, which also will be explained during orientation. If you have questions, be sure to speak to a program administrator so that you are aware of all that is offered to you and are prepared in case of an emergency.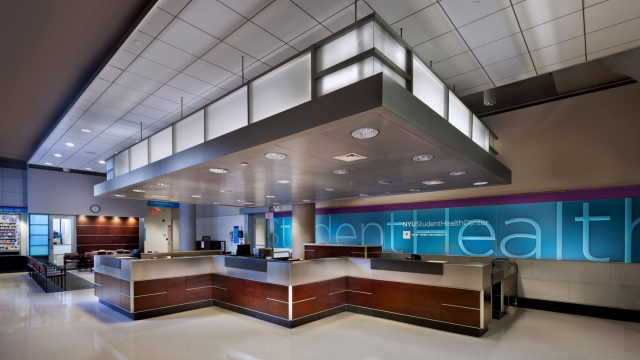 NYU Student Health Center (SHC)
726 Broadway, 3rd and 4th Floors
212-443-1000
The Student Health Center (SHC) provides students with medical, psychological, pharmaceutical, educational, crisis response, and support services.  Whether your needs are urgent, you require counseling, or have questions about health services, the SHC staff can assist you.  The Student Health Center is available to all students, but its services may not be covered by a student's private insurance policy.

Wellness Exchange
212-443-9999
The Wellness Exchange is available to all students and connects you to services at NYU that support your overall health and mental health needs.  The Exchange is available 24 hours a day, seven days a week by calling the hotline (above), and it puts you in touch with professionals who can help you address day-to-day challenges and questions, as well as any crises you may encounter including depression, sexual assault, and anxiety.  Whenever you have questions or need to speak with someone, do not hesitate to contact the Wellness Exchange!  
Health Insurance
NYU Student Health Insurance
726 Broadway, 3rd Floor
212-443-1020
NYU values the health of its students and wants to guard against financial hardships that may result from high healthcare expenses.  Only international students are covered by NYU Student Health Insurance, and the cost of the insurance will be included in your summer bill.  All other students must have health insurance that meets a minimum threshold of coverage in New York City.  No matter your insurance coverage, all students will have access to urgent care for illness or injuries at NYU's Student Health Center.
All students are encouraged to carry their health insurance cards at all times in case of an emergency.
NYU Public Safety
7 Washington Place
212-998-2222
Public Safety provides emergency help and information 24 hours a day.  If you need assistance, call the helpline listed above or ask a guard.  Guards are posted in most NYU buildings and patrol the campus area.  Each residential hall has a guard on duty 24/7. University buildings with green lights outside the main entrance also have guards on duty 24 hours a day, and emergency call boxes are located throughout Washington Square.  Public Safety also manages the University's Lost and Found.
Safe Havens are local businesses where you can seek assistance in case of an emergency.  They are located in the Soho, Greenwich Village, Union Square, and Gramercy Park neighborhoods.  All have a Safe Havens sticker in their windows.  
Safety in the City Tips
We want all students to be safe while traveling around the city. Basic safety tips are available on the NYU Public Safety website.  All students are encouraged to read this information prior to their arrival.
NYU Card Center
7 Washington Place
212-443-2273
As NYU students, all NYUSPS High School Academy students are required to get a NYUCard, the University's student ID.  You will need your card to gain access to all classroom buildings, the residence hall, and all other NYU buildings, resources, and services.  All students are required to submit an ID photo online prior to arrival and to pick-up their NYUCards as soon as possible after they arrive.  The NYUCard also acts as a student's dining card for those students who are living on campus or commuters who signed up for a meal plan.
Support on Campus
The NYUSPS High School Academy is a precollege experience for all students.  As such, students are held to the academic and conduct standards of all college students on campus and are free to walk in and around campus at their leisure.  Students are not escorted around campus or to and from class and the residence hall.
That stated, a great deal of support is available to students to help them explore the city and get the most out of their college experience during the summer.  The residential hall has a team of professional administrators and staff who oversee the building, plan activities, and manage the large team of Program Assistants (P.A.s) who live on each floor in the hall.  Program Assistants are NYU students and graduates who run the many events and activities offered outside of class and are available to all students–residential or commuter–should they have a question or concern while in the program.  As NYU students themselves, they know a great deal about NYU and the city so never hesitate to ask them questions.