Curriculum Tracks / Learning Outcomes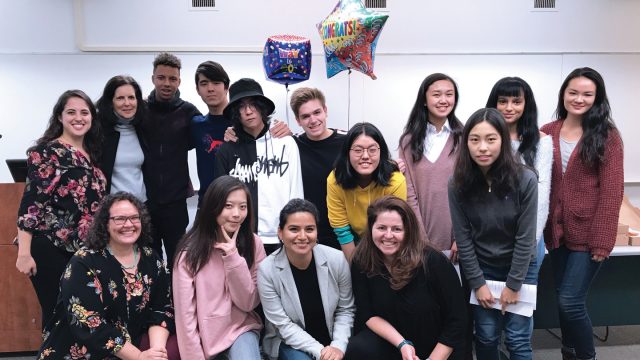 Please note: courses are offered 9 a.m. to 5 p.m., Monday - Thursday, for the duration of the six-week program.
Project Management
Structure:

This course will provide a framework for understanding and applying the tools, techniques, processes, methodologies, and core knowledge associated with project management. Students will develop the insight and the skills required to be effective as a project participant as well as a project manager. They will be able to successfully characterize the relationship between the project life cycle and the core practice areas associated with a structured project initiative. The content will be delivered through facilitated interactive discussions and in-class group exercises. Each project management session will include at least one practical application of a tool, technique, concept, or practice. In-class work groups were made up of different team members for each week of the semester, to engage in collaborative activities.
Student Learning Outcomes:

At the conclusion of this track, students will be able to,

Define the framework of structured project management and the integrated relationship between the project life cycle, the project knowledge domains, and project constraints


Develop a 'Project Proposal' for the evaluation and selection of a project initiative and the specific deliverables associated with its outcome (scope)


Prepare a project communications plan, including the use of digital tools and social media


Construct a project Work Breakdown Structure (WBS) for use in building a project workplan


Produce a 'Project Charter
Professional Communications
Structure:
In addition to weekly individual and group presentations, the Professional Communications track is split each day between lessons and writing workshops. In the lessons, students will engage in instructor led discussions and activities that support their understanding of weekly topics. Students will review and evaluate mentor texts and will be invited to develop, share, and discuss individually curated mentor texts lists. In the writing workshops, students will craft documents (traditional and multimodal), receive instructor feedback, and work to develop habits of writing and editing. Students will be prompted during writing workshops to draft and revise pieces for individual presentations and will be given time for collaborative writing exercises with their group presentation teams.
Student Learning Outcomes:

At the conclusion of this track, students will be able to,

Discuss the affordances, drawbacks, and overlap between traditional and digital communication strategies


Write, edit, and implement revision strategies to improve document clarity and messaging across versions


Compose multimodal documents that thoughtfully combine text, image, and audio to both communicate information and document experiences


Articulate and employ an understanding of copyright responsibilities for traditional and digital texts


Collaborate with project groups to prepare and deliver multimodal presentations
Industry Exposure

Structure:

This portion of the course will be structured weekly by topics that build progressively on one another. Week 1: NYC (Orient students this unique geographic, socio-economic place; letting them surprise and delight in the diversity, the grandiosity, the intimacy, the historic and the now, the iconic and the hidden.) Week 2: HAPPINESS (Students consider the foundation of choosing a career, learning to pay attention to their sense of satisfaction, locate their joy and answer "Do I really like this kind of work/workplace?") Week 3: THE "OFFICE" (Students develop an expansive notion of the myriad of physical work environments and professional lifestyles that exist) Week 4: LEADERSHIP (How do you not just attain employment but what are the skills needed to lead, run, direct and own?) Week 5: INNOVATION (What does it mean to think innovatively and why is it so important? How do you push not just your business, but an entire industry forward?)
Student Learning Outcomes:

At the conclusion of this track, students will be able to,

Consider the difference between a job and a career


Identify what makes them happy as it relates to work and work-life balance


Develop an expansive perspective on the range of professional careers and lifestyles


Explain the mindset for professional leadership and industry innovation


See/meet a variety of workplace environments, workplace activities, and people from a variety of industries and professions.
The GAP Semester Capstone Project: Final Presentation:

At the start of this course, students will self-select a topic area of interest and will then collaborate with their peer group and a faculty member(s) to develop a capstone project. This project will allow the student to apply what she/he has learned in class and through industry exposure, to create a work product that can be used to demonstrate his/her newly acquired skills and knowledge. A public presentation of  the physical and digital work product(s) will be conducted the last day of the semester.