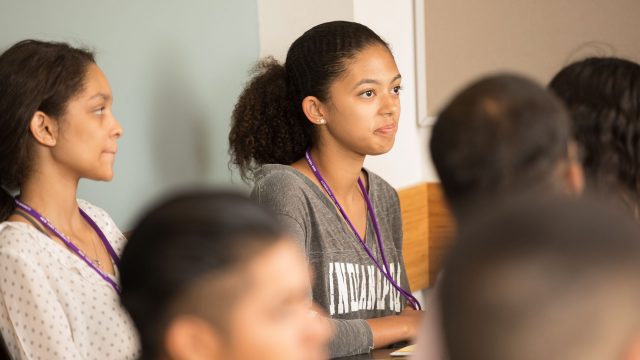 The Aspire Program changed my life, helping me to prepare for college and a career.
We are delighted that you are considering supporting the NYUSPS Aspire program.  The generosity of donors, such as you, is paramount to the success of these worthy students and we would not be able to do what we do without your support.
We are tremendously pleased with the progress of the NYUSPS Aspire Program to date. We are getting positive feedback from program participants and their High School advisors, about the progress of the students once they've returned to their respective schools. 
NYUSPS Aspire, one of the few programs of its kind, makes higher education accessible for at risk students facing financial and other social constraints. Students, who otherwise might not achieve their dream of attending college.
How you can help:
$500 will support one student's participation in a summer workshop;
$1,000 will support one student's year long participation in the program;
$2,000 will fully support one student's two year long participation in the program
Following the success of initial NYUSPS Aspire classes, we are are seeking support to expand the program in order to have more outreach and greater impact on as many students as possible.
Scholarship Support: Your generosity in the form of a gift towards scholarship for enrolled students will have an immediate impact on the program.  Your gift will cover cost of attendance allowing us to continue to provide the program to deserving students from underserved communities free of charge.
Program Support:  A gift towards program support, will allow us to do more outreach, admit more students, acquire more faculty and equipment in order to provide higher education access to talented young minds, who may not otherwise have the means.
Should it be your wish, in recognition of your support, we propose to inform student recipients that the funds were provided thanks to your generosity.  We will provide an annual narrative and financial report on the fund, as well as an opportunity for you and your family to meet your student(s).
If you are interested in establishing an expendable or endowed fund, please contact Sonal Pande, Director of Development, School of Professional Studies.